Policies and procedures
A core function of Salford Safeguarding Children Partnership (SSCP) is developing procedures and policies for safeguarding and promoting the welfare of children.
Many of the Greater Manchester Procedures were adopted from 19th March 2013.  Direct access to the Greater Manchester (GM) Safeguarding Children Procedures Manual is available.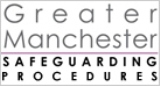 Local polices and procedures
Salford policies, procedures, guidance and toolkits can be accessed from the drop down menu below and via the relevant sections of the SSCP website where appropriate.
If you cannot see the policy you are searching for please also check the 'Pathways from GM Procedures to Salford Practice' below.
North West Inter-Local Authority Transfer Process
Pathways from GM procedures to Salford practice
The introduction of GM-wide procedures will lead to increased consistency of practice. But there will, for the time being, still be some local variations. In this section we describe how, for specific procedures, the GM versions should be interpreted for implementation in Salford. This is where 'Pathway Guidance' will assist. The Pathway Guidance can be accessed here.
® Register for Alerts to keep up to date
The best way to keep up to date with new procedures, or amendments to existing procedures, is to register for alerts. To do this go to the Register for Alerts page and complete the brief online form.
Latest news
Details of all the latest news from the Salford Safeguarding Children Partnership.