May 2020
Salford Safeguarding Children Partnership Arrangements- Child Friendly Version
Salford Youth Council have developed a short video to explain our Salford Safeguarding Children Partnership Arrangements which went live on 1st April 2019
 "We made the video to highlight the changes in Salford. We wanted it to be easily understandable as we believe that everyone should be able to know what is going on in regards to their lives and safety" Rose Palmer, Young Mayor
"We think it's important for children and teenagers to understand who is responsible for their safety in Salford. We wanted to keep it easy to read, but had to think of a way of sharing the message during lockdown. Hopefully they will know where to go for help." Olly Deputy Young Mayor
To watch the video or for more information visit: https://safeguardingchildren.salford.gov.uk/about-the-partnership/
Coronavirus: experiences of children and young people
The Children's Commissioner for England has published a series of blogs looking at children and young people's experiences during the coronavirus pandemic. Recent blogs discuss children and stress and the lockdown experiences of young people in children's homes.
Read the blogs: Children and stress, what's worrying them most
Mental Health Awareness Week (18th - 24th May 2020) 
The Mental Health Foundation have a range of resources of posters and social media graphics that can be used to promote the week, to access: www.mentalhealth.org.uk/campaigns/mental-health-awareness-week/resources
Time to Change have produced the following poster as part of the campaign: Mental Health Awareness Week
Greater Manchester is joining together through acts of kindness as we respond to #COVID19 and here are some ideas from @42ndStreetmcr of how you can share some kindness and love, along with an excellent online blog written by Rebecca, sharing some simple ideas of how to everyone can share a little kindness:  www.42ndstreet.org.uk/news/latest-news/kindness/
There are also a range of resources, information and advice available:
ICON Campaign
During this challenging time stress levels at home may be increased. Please follow the ICON guidance for coping with crying. The advice and support that underpins ICON is available for all health and social care professionals to ensure the message is provided to all families with babies. 
For more information visit or to download the resources visit https://safeguardingchildren.salford.gov.uk/parents-and-carers/infant-crying-and-how-to-cope-icon/
Advice for Parents
Whilst coronavirus is infectious to children it is rarely serious. It can be confusing to know what to do when your child is unwell or injured. Remember that NHS 111, GPs and hospitals are still providing the same safe care that they have always done.
Coronavirus & Safeguarding Children
The SSCP website has a dedicated web page throughout this period visit: https://safeguardingchildren.salford.gov.uk/news/coronavirus-and-safeguarding-children  
If you would like us to add anything to this page, please e-mail: sscp@salford.gov.uk
Are you worried about a child? Don't ignore it—Report it!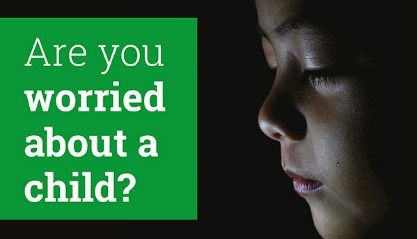 During the Covid-19 pandemic, professionals and volunteers may come into contact with individuals and families they haven't met before.
If you're worried that a child is being neglected, abused or is not being looked after properly please don't ignore it.
Trust your instincts and get in touch with The Bridge team if you've seen or heard something that you thought wasn't right.
Call: 0161 603 4500 (8:30am-4:30pm) outside these hours 0161 794 8888
In an emergency call 999
NSPCC Helpline campaign
The NSPCC has launched a government funded campaign to raise awareness of our helpline, which provides free support for anyone who's worried about a child.
Watch the campaign video: Still here
Find out more about the helpline: NSPCC helpline
Download the NSPCC and DfE helpline toolkit
For more information visit: www.salford.gov.uk/worriedaboutachild or download a copy of Life in Salford (March 2020) magazine
Access to Temporary Accommodation through the Housing Options Service
Where a local authority has reason to believe that a person may be homeless, or threatened with homelessness, it must make inquiries to determine what, if any duties are owed to that person under the homelessness legislation. Not everyone who makes a homelessness application is entitled to temporary accommodation so inquiries will include whether the authority is under a duty to secure temporary accommodation where this is requested. The briefing below covers the criteria that must be met in order to qualify for temporary accommodation, what types of accommodation might be offered and when or how the duty to provide it ends.
For further assistance or information, please contact Jane Anderson, Service Manager – Housing Options tel: 0161 793 2078 or email: jane.anderson@salford.gov.uk
Professional Challenge and Escalation
Salford Safeguarding Children Partnership (SSCP) have updated the professional challenge and escalation guidance in response to learning from Case Reviews.
Recent case reviews have evidenced that multi-agency working is strong in Salford and partners are good at sharing their views regarding what is working well for children and families and what could be better. However, there are times when disagreements occur and require informal/formal escalation if concerns cannot be resolved.
Learning from case reviews has found that effective challenge and escalation has not always been achieved and on occasions this has meant that the multi-agency professionals have remained in disagreement without resolution, impacting on how effective agencies work together to safeguard and promote the welfare of children. Constructive challenge among colleagues within agencies and between agencies provides a healthy approach to keep children safe. There needs to be a clear process in place to achieve and evidence this while keeping the focus on the child and their needs.
The updated procedure and supporting form is available on the policies and procedures page on the SSCP website. We will incorporate this into the SSCP multi-agency training programme.
Please promote the revised procedure within your agency and contact sscp@salford.gov.uk if you want to update the SPOC list.
Online safety
The NSPCC has updated the online safety content for parents and carers on its website to include new advice on talking to your child about online safety. Visit the NSPCC website: Online safety and coronavirus
GMCA COVID-19 news bulletin (May 21, 2020)
We are continuing to bring you regular updates from Greater Manchester Combined  Authority (GMCA) and the Mayor of Greater Manchester in a bid to keep the people of Greater Manchester informed and ensure they are receiving all of the right advice and guidance at this time in relation to COVID-19.
In response to COVID-19 two websites have been established, one to help coordinate the community response to the outbreak in Greater Manchester and another to ensure businesses can get the support they need.
The latest Government advice and guidance, including on how to protect yourself and others can be found here.
We always appreciate feedback, so if you have any suggestions about what you'd like to see in this newsletter, please email us: news@greatermanchester-ca.gov.uk.
COVID-19 VCSE Update: Staying Socially Connected
Download the twice-weekly COVID-19 update for voluntary organisations, community groups and social enterprises in Salford.
For more information call 0161 787 7795 or email office@salfordcvs.co.uk.
Latest news
Details of all the latest news from the Salford Safeguarding Children Partnership.