July 2020
July 2020
SSCP Annual Report 2019-20
We have published our first annual report as the Salford Safeguarding Children Partnership (SSCP). This report recognises the progress the SSCP has made throughout the year and the challenges that remain that we will continue to address in 2020/21.
The three priorities for this year are Neglect, Child Criminal Exploitation/Abuse and expanding and developing the use of technology for service delivery which has begun in response to the COVID pandemic. 
There are also three areas that the Partnership will seek assurance on from other Partnerships across Salford that have the lead responsibility for  Early Help/Adverse Childhood Experiences (ACES), Children Affected by Domestic Abuse and the Safeguarding Elements of Mental, Emotional Health and Wellbeing​.
For more information email: sscp@salford.gov.uk
Coronavirus & Safeguarding Children
In these challenging times, SSCP would like to remind everyone that safeguarding remains a high priority and if you have any concerns that a child is being abused or is at risk of abuse, to follow the appropriate process as normal.
We have also updated our Position Statement and guidance on the safeguarding children arrangements during Covid-19.
The SSCP website has a dedicated web-page throughout this period visit: https://safeguardingchildren.salford.gov.uk/news/coronavirus-and-safeguarding-children
If you would like us to add anything to this page, please e-mail: sscp@salford.gov.uk
Are you worried about a child? Don't ignore it—Report it!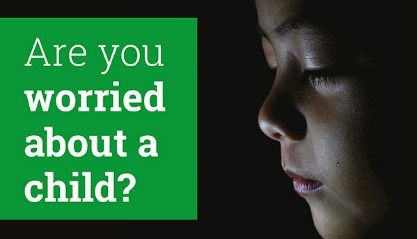 During the Covid-19 pandemic, professionals and volunteers may come into contact with individuals and families they haven't met before.
If you're worried that a child is being neglected, abused or is not being looked after properly please don't ignore it.
Trust your instincts and get in touch with The Bridge team if you've seen or heard something that you thought wasn't right.
Call: 0161 603 4500 (8:30am-4:30pm) outside these hours 0161 794 8888
In an emergency call 999
Learning from Case Reviews
We have recently published the learning from Child GI case review using a 7 Minute Briefings.
Take a look also at the Case Review Themes 2017-18 7 minute briefing which includes a video recording and links to helpful tools and resources.
Please disseminate the key learning, reflect on the implications for your service and outline the steps your team will take to embed and improve practice in line with the findings and recommendations.
For more information visit https://safeguardingchildren.salford.gov.uk/professionals/practice-reviews/
If you have any feedback please email: sscp@salford.gov.uk
SSCP Training Programme Update
In the absence of face to face training for the foreseeable future the Salford Safeguarding Partnership has started to develop a virtual training programme.  In addition to e-learning courses, 7 minute briefings, Learning from Practice Reviews and Learning Events we are now offering webinars, spotlight briefings, practitioner forums and videocasts.  We will continue to review the possibility of offering face to face training in line with Government advice and local needs. 
The Salford Standards for Listening to Children, Yong People and Families
As part of our commitment to listening to families who we work with, and acting on what they tell us, we have developed The Salford Standards for Listening to Children, Young People and Families.  The Standards are based on what young people and families told us was important to them when working with services. We want everyone who works with Salford families to adopt these standards.
Please read and familiarise yourself with the standards and start to follow them when you work with families. You can share the standards poster with the children and families you work with so they know what they can expect from you and understand how their views are valued.
We have also developed a 7 minute briefing on Salford standards for listening to Children, Young People and Families.
Views and Voice training will include more information about the standards and how we work together with children and their families, please see the SSCP training pages for booking information.
Safeguarding children at risk from sudden unexpected infant death
The SSCP contributed to the 2nd national review into the sudden unexpected death of infants conducted by the Child Safeguarding Review Panel (CSPR). The review explores how to embed safer sleeping advice in families with children at risk of sudden unexpected death in infancy (SUDI). 
The Independent Child Safeguarding Practice Review Panel is hosting a webinar to discuss the guidelines for local safeguarding reviews on Tuesday 4th August 10-12:30 
Safe4Summer Campaign 
In Salford we are particularly concerned about the danger of young people and adults jumping from bridges into water and unsupervised swimming. Please support and share the Safe4Summer campaign message where possible by sharing social media posts about this subject.
The campaign aims to educate children and young people about a range of dangers, including unsupervised swimming, so they can keep themselves safe during the summer months, and signpost them to fun, creative activities.
Safe4Summer brings together Greater Manchester Fire and Rescue Service, Greater Manchester Police, Greater Manchester Combined Authority, local councils and other key partners to encourage young people to stay safe and keep to the coronavirus social distancing restrictions and provide lots of fun activities for them to enjoy.
For more information visit: https://manchesterfire.gov.uk/staying-safe/safe4summer/
ICON Campaign
During this challenging time stress levels at home may be increased. Please follow the ICON guidance for coping with crying. The advice and support that underpins ICON is available for all health and social care professionals to ensure the message is provided to all families with babies. 
For more information visit or to download the resources visit https://safeguardingchildren.salford.gov.uk/parents-and-carers/infant-crying-and-how-to-cope-icon/
Lullaby Trust—Safer Sleep for babies
Unsafe sleeping is an issue that often is found to be a cause of Sudden Unexpected Death in Children (SUDC).
The Lullaby Trust provides advice on safer sleep for babies and offers emotional support to bereaved families.
Their advice page covers sleep positioning, room temperature, how to share your room with a baby, best mattresses, co-sleeping, swaddling and sleeping products.
This guide contains guidance for parents and guardians on sleeping as well as products such as cots, prams car seats and thermometers.
Salford Emotional Health Directory - COVID-19 Update 
The online directory has been updated to include information on any service changes due to the current situation, to access please use the following link: www.partnersinsalford.org/directory
NSPCC Learning Newsletter
Download their weekly newsletter to keep you up-to-date with all the latest safeguarding and child protection news.
For more information or to subscribe visit: https://learning.nspcc.org.uk/newsletter/caspar
COVID-19 VCSE Update: Staying Socially Connected
Download the weekly COVID-19 update for voluntary organisations, community groups and social enterprises in Salford.
For more information call 0161 787 7795 or email office@salfordcvs.co.uk.
Newsletter: Child Safeguarding Practice Review Panel
Download their second newsletter update to stay up to date with the latest patterns in practice from serious incident notifications across the country. This include includes
Safeguarding Spotlight – How can you adopt and embed good practice to prevent sudden unexpected death in infancy?
Third national review into non-accidental injury in babies
Register your interest for the Panel's first webinar on Tuesday 4th August 10-12:30
Panel Updates – What's the latest news about the Panel's reviews and work?
Stakeholder News – What recent resources have been published?
Have Your Say – Do you want to highlight good practice in your area?
If you have any feedback on this newsletter please email: Mailbox.NationalReviewPanel@education.gov.uk 
Gaddum Therapy Child Bereavement Service 
Gaddum, who support bereaved children and young people (CYP) aged 5-18 across the city have an enhanced service offer thanks to additional funding from Salford CCG, to extend their work to include those who have experienced a bereavement as a result of COVID-19
The offer continues to be child-focused and client-led, meaning each individual therapeutic intervention is unique to their needs as they begin to explore their process of adjustment following bereavement.
Working alongside families, Gaddum deliver education and advice including up to 12 therapy sessions to create "wrap around" psychotherapeutic interventions. Creative play and art therapy for younger children accessing the service is offered along with person-centred therapy (primarily a talking therapy) for young people.
How to refer and contact details:
Referrals can be made by families and also professionals.
A referral form is to be completed which is available from their designated child counselling services page on their  website  or you contact them directly if you need any advice completing the form.
0161 834 6069 | referrals@gaddum.org.uk | gaddum.org.u
HOPELINK
HOPELINK is PAPYRUS's digital platform that is helping HOPELINEUK callers to revisit and update their suicide safety plans, online.
This unique two-way safety plan is simple to set up, secure and will help to save lives. It is also accessible to users 24/7, meaning that there will be support around the clock for anyone using the service.
The first service of its kind in suicide prevention, HOPELINK is led by the user – allowing vulnerable young people to create, update and revisit their suicide safety plan, helping to keep them safe when they have thoughts of suicide. HOPELINK allows young people to work confidentially with HOPELINEUK's trained suicide prevention advisers, empowering them to create, adapt and amend their own care plans.
Using the HOPELINK service will help to keep young people safe from suicide by acting as a reminder of the safety plan that they've talked through with our suicide prevention advisers, and provide a space where vital information and written support services are stored.
HOPELINK is a completely confidential service, our HOPELINEUK advisers do not take any personal details from callers when setting up their personalised account with HOPELINK, they are simply provided with two randomly generated words which will give them access to their safety plan.
For more information: www.papyrus-uk.org
Your Voice, Your Decision
The Office of the Public Guardian launches new drive to raise awareness of lasting powers of attorney in BAME and low socio-economic groups affected by COVID-19
The Office of the Public Guardian (OPG) is the Government organisation responsible for the registration of lasting powers of attorney (LPAs). An LPA is a legal deed which allows a nominated person(s) to make decisions on behalf of another person in certain circumstances. There are two types: one for financial decisions and one for health and welfare.
In response to the new and evolving situation created by COVID-19, OPG has now launched a new stage of its campaign to encourage people to register LPAs. The 'Your Voice, Your Decision' campaign https://powerofattorney.campaign.gov.uk/ aims to reach individuals from groups which have been particularly affected by the pandemic. People from BAME communities and areas where deprivation is prevalent have been adversely affected by the crisis and would benefit from the security a health and welfare LPA provides if someone should lose the capacity to make decisions about their own health and care. However, it is amongst these communities where the take-up of LPAs is at its lowest.
Campaign material can be accessed at:  https://www.gov.uk/government/collections/your-voice-your-decision-campaign-materials 
For more information please contact:  Communications@publicguardian.gov.uk 
Cloud Coffee and Chat
Our colleagues in Service Reform have set up a new service to help residents - Cloud coffee and chat. This replaces the drop in BetterOff sessions usually held in our Gateways and means we can offer face to face chats via video calls. Our advisors provide support on Council Tax, Business Rates and Benefits or can put residents in touch with a wide range of services from housing to health and well-being. Other than having to make their own brew, it's just the same as the Gateway sessions except in the comfort of their own home. This service has the added bonus of offering a text type service. Cloud coffee and chat complements the 24/7 support offered by our BetterOff Salford portal which helps residents check if they're entitled to benefits and get help with debt problems online. This also has budgeting tools and resources for managing money plus lots of other useful information.
If you know of anyone who could benefit from some help either via the portal or this new Cloud coffee and chat service, please ask them to visit www.salford.gov.uk/betteroff
Useful Links to Training, Information and Resources 
SSCP Training - In the absence of face to face training, the Salford Safeguarding Children Partnership has developed a virtual training programme. In addition to e-learning courses, 7 minute briefings Learning from Practice Reviews and Learning Events,  we are now offering webinars, spotlight briefings, practitioner forums and videocasts. We will continue review the possibility of offering face to face training in line with Government advice and local needs. For more information contact the training team via Debbie.Hulme@salford.gov.uk  
New Safeguarding Resources   
Latest news
Details of all the latest news from the Salford Safeguarding Children Partnership.